Fists Full of Cash - Winner Takes All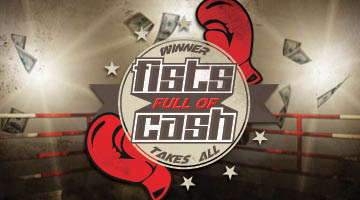 FRIDAYS IN APRIL
10:00pm -11:00pm
SATURDAYS IN APRIL
6:00pm -8:00pm ♦ 9:00pm -11:00pm
TAKE A SWING AT UP TO $10,000 CASH!
Every 20 minutes, you could be one of two lucky B Connected members to face off in one round of the cash machine!
The player to grab the most money during the round
WINS BOTH PRIZES – up to $10,000 CASH!
The worthy opponent drops down for the count – and wins $250 CASH!